| | | | | | |
| --- | --- | --- | --- | --- | --- |
| Los Angeles | New York | London | Dubai | Beijing | Tokyo |
| | | | | | |
Aerospace
The SFI team has cultivated long-term relationships with clients, manufacturers, government agencies and investors, and has developed and maintained a substantial network of professional contacts and partners. Our business model offers extensive experience representing client requirements and our processes have been tested over many years and applied to many successful regional aircraft financing campaigns.

Our constant long term presence in the regional aircraft market has resulted in the development of a robust market intelligence capability and a supporting database comprised of transaction structure and pricing files from our extensive regional aircraft transaction portfolio.  This intelligence capability is primarily used to assist our clients in purchasing/leasing aircraft to add to their fleets to take advantage of growth/new business opportunities, and for manufacturers to successfully supply aircraft for these opportunities on favorable economic terms. The effectiveness of our group's detailed quantitative analysis and intelligence capabilities is evidenced by the successes of our regional jet clients who have emerged from small turboprop operators to become regional jet market leaders.

We are considered to be the leading advisor and arranger of new aircraft financing in the regional market based on (1) regional manufacturer referrals to their airline customers (2) an unrivaled number of regional aircraft transactions closed, and (3) a reputation for maintaining a 100% placement success rate for our customers.

Our recommended financing structures have utilized a diverse mix (see chart below) of third party market debt and equity, ECA debt, manufacturer debt and equity as well as government and manufacturer support mechanisms to fulfill manufacturers' backstop, interim and permanent financings and to meet economic (i.e. codeshare pass through requirements), risk, legal, tax and accounting requirements for our clients.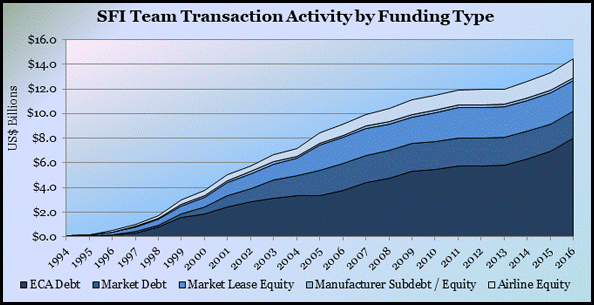 SFI's experience and familiarity with the various sources of regional aircraft financing in combination with intimate knowledge of credit and asset support mechanisms, manufacturer limitations, and airline codeshare requirements have enabled many significant achievements, including several examples cited below:
Structured the first regional jet aircraft to enter the Mexican regional airlines;


Structured first CRJ ECA transaction in South America using 100% debt/sub debt with insurance wrap;


Structured first financing of Q400 aircraft in US market in 2001;


Structured the first leveraged tax leases incorporating BNDES debt in 1997;


Structured the first US fleet wide order for the newly developed FD328Jet aircraft in 1999;


Assisted regional airline clients in structuring and negotiating code share service agreements with their main line carrier partners; and


Developed operating and capital structure and arranged the financing for two manufacturer sponsored aircraft and engine leasing companies.